I spent a fair portion of my childhood playing the Dragon Warrior series for NES. Now, I'm at most a casual gamer though when I do play I generally keep to RPGs with a strong plot or turn-based strategies games. I picked up Dragon Quest Swords in hopes of experiencing some of what made Dragon Warrior special again with better graphics and a Wiimote.
Of course, I know that a remake of a beloved childhood game doesn't stand a chance. It's like the great book you read, which was made into a movie that there isn't a chance that you'll like. In fact, that's one of the reasons why I haven't picked up a Dragon Warrior remake until now. I can't look at Dragon Quest Swords on its own merits or not, but only compared to Dragon Warrior.
This isn't, then, so much of a review as it is a comparison between Dragon Quest Swords with what I like most about Dragon Warrior NES version.
Dragon Quest Swords is Too Easy
In Dragon Quest Swords, there's no other option than to progress in the game. You beat a level, return to the castle, buy a few things, and repeat. On the other hand, I played Dragon Warrior for hours roaming the map desperately talking to any and all villagers to find a hidden item or unlock a secret.
I had to spend a little time levelling up for Xiphos himself, but otherwise it was straight forward. While there are some tricks up Dragon Quest Swords' sleeves, they aren't essential to the game like Dragon Warrior.
Dragon Quest Characters (and Their Names)
There's probably a good reason why the series is no longer called Dragon Warrior and now called Dragon Quest, but whatever it is, I just haven't been able to let go. My problem, not Dragon Quest's!
The characters are a different story. The Chimaera is a Wyvern for crying out loud…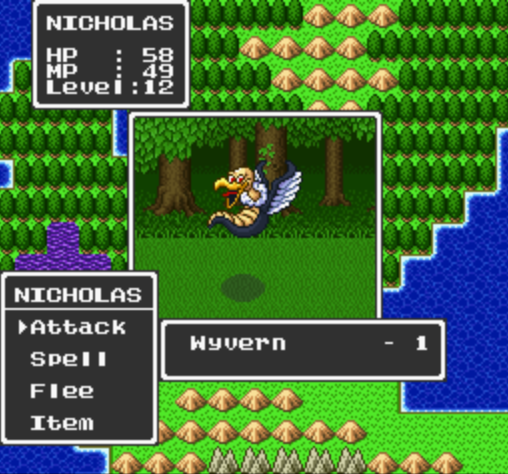 Speaking of monsters, Dragon Quest Swords is crawling with slimes and despite the series title, precious few dragons. The majority of the worlds include slimes, and while they are endearing characters, they just slowed down game play aside from the occasional metal slime. One of the mirror boss's is a multi-headed dragon – loved it! The rest of the dragons, however, were weak enemies defeating just as easily as everyone else.
I'm generally turned off by silly or stupid boss's like Golok or Grossmesser, but Xiphos himself was pretty solid. You can't go wrong with having two forms, cough cough, Dragonlord.
The characters are also a mixed bag. The father in Dragon Quest Swords is a middle aged guy, who drinks and picks up girls at the bar, while talking to you like one of the guys? Fleurette has gone a long way from the convent by the looks of her outfit! It's hard to get emotionally involved with her or her brother who you don't really know from Adam.
Compare Fleurette to Lady Lora, Princess Gwaelin, who is the quintessential damsel in distress: the King's daughter kidnapped by a dragon.
Finally, who is the hero? I understand the appeal and usefulness of first person in the game, but one of the great aspects of Dragon Warrior was that it was both first and third person. First person was useful for fighting and third for exploring the map. Third person also gave me a perspective of what character I was. I was a hero and a knight in Dragon Warrior. By the age of the hero's father in Dragon Quest Swords, I only presume that the hero is a tween. Maybe even with a Justin Bieber haircut?!
Dragon Quest Swords' Storyline is Pretty Good
The mask was an interesting prop that held most of the storyline together in addition to other references to what I presume were previous Dragon Quest title references related to Xiphos and otherwise. Unfortunately, game play was so straight forward that you didn't get a chance to participate in the story in a meaningful way. You beat this boss. There was some dialogue. You beat the next boss. More dialogue. Rinse and repeat.
Yea, So Dragon Quest Swords Doesn't Get a Fair Shake or Does It
Though I said that I didn't think that I could assess Dragon Quest Swords on its own merits and would compare it to the original NES game, I'm in good company with my overall assessment that this game is too simple and most everything else is a mixed bag. IGN agrees though they are a little more forgiving about it.